Polyaspartic Garage Flooring Solutions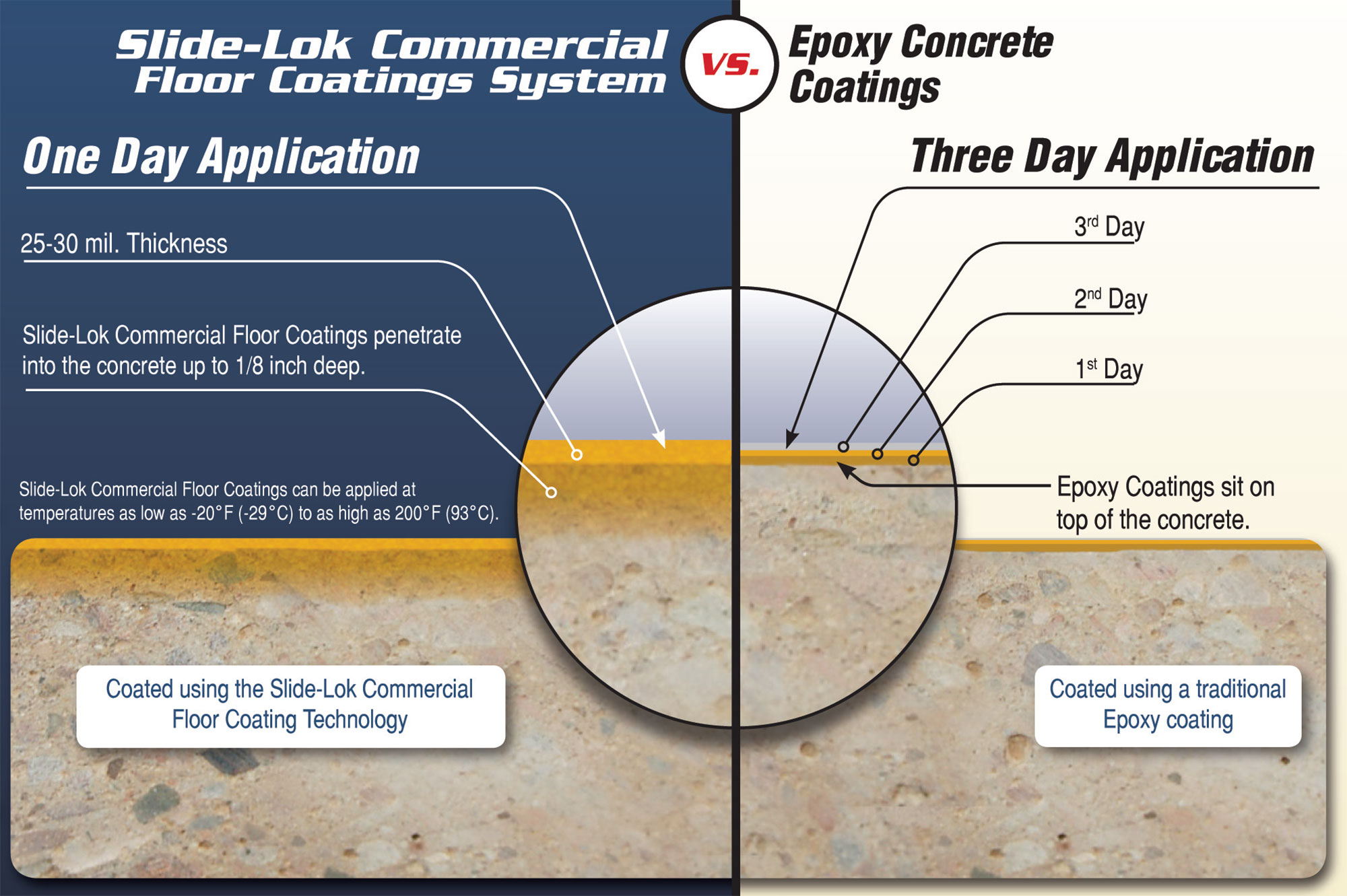 Our floors feature Slide-Lok coating technology that:
May be installed in just one day
Is four times stronger than epoxy
Can be applied year-round at almost any temperature
Is an ideal solution for floor repair and preservation
Is completely UV Stable
Offers Superior color and gloss retention
Will not yellow or chalk
Is available in multiple colors
Can be walked on two hours after installation
Come with a limited lifetime warranty
Is available in a multitude of colors and chip finishes
Talk to us about the removal of your failing epoxy floor
Every home and business owner inevitably asks the same questions: How will I store everything? What's the best use of my space? How can I maximize my current space?
The quality construction and elegance of Slide-Lok products offer a modular design system with a custom look built-in. Custom configurations with adjustable shelves and drawers are available, and come in choices of 12-, 16-, and 24-inch depths. All cabinets and drawers feature dovetail construction and a lifetime warranty. Our precut and finished components are also available in natural maple or red alder. Add in the fact that all of this can be installed professionally in less than one day, and you have a formula for satisfied customers every time.
Garage Cabinets

Garage cabinets by Garage Floor Outfitters are the superior choice for all your storage needs. We carry both the plywood Classic series and the metal Tech series by Slide-Lok. Other cabinets made of particle board don't last in garage environments where moisture can lead to their early demise. Our cabinets also feature dovetail construction. In addition to our solutions by Slide-Lok, our steel garage cabinets by Gladiator combine the strength of all metal cabinets, with the versatility of plywood models. And because our cabinets are modular, you can mix and match cabinets and cabinet systems to create a custom designed storage system to suit your needs.

Strong Racks is the manufacturer of the world's strongest and safest celling storage racks for your garage. These garage storage racks are capable of holding the highest weight capacities in the entire industry of overhead storage systems, and are tested thoroughly to ensure that these overhead ceiling racks offer maximum safety, strength and durability. Features include:
100% 4 joist mounting every install
Rack secured to ceiling with 48 bolts
11 Gauge Steel used on mounting track
Wall mount bracket for extra capacity
Square tube down rods for strength
2" safety lip to secure items
Expands into super storage platform
Steel Grids bolted down for safety
Powder coated
Lifetime Warranty with installation
Slat Wall Storage

Expand your hanging storage options with slat walls by both Slide-Lok and Gladiator. They are built only from strong and durable material, feature hooks that can hold up to 100 pounds, and are available in custom sizes and configurations. Baskets and hooks can be ordered in several sizes and the slat wall is available in both wood grain and grey finishes. All components are backed by a lifetime warranty.
Gladiator products combine limitless storage possibilities with sophisticated design to help you reclaim valuable space throughout your home. From the garage to the pantry, these premium storage solutions reflect your sense of style while delivering the durability and functionality that match all your unique organizational needs.
We had two other companies come out and bid on our floor and cabinets for our garage. We are so happy choose Garage Floor Outfitters for the job. You delivered on exactly what you said you would.
Jon & Lisa – Chanhassen, MN
Garage Floor Outfitters is proud to be the area's premier dealer of Slide-Lok polyaspartic floor coatings, garage interiors and storage solutions. In fact, more than just a great answer to many garage-related problems, Slide-Lok products are ideally suited to improve any workroom, laundry room, hobby room, utility room, basement, closet, office storage area, and auxiliary or multi-purpose area.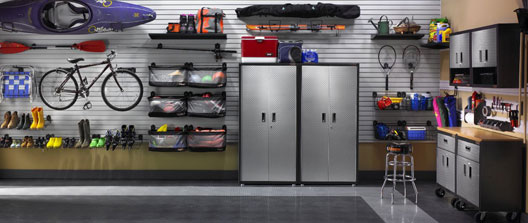 At Garage Floor Outfitters, we're equipped and ready to transform your garage into a new, more functional space with features like our Slide-Lok polyaspartic floor coatings. Call us today at 952-908-9888 for a free estimate, and find out how easy and affordable a brand new garage interior can be.